3D Modeling Bootcamp 2023
GG Tech is hosting a 3D Modeling Bootcamp for the month of March!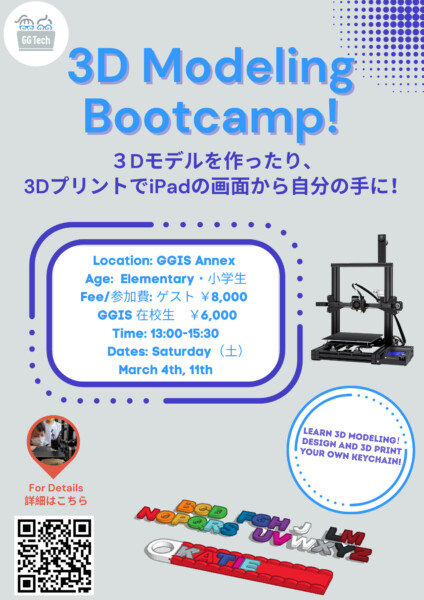 Please join us for 2 days of 3D modeling and printing! Students will be able to create their own designs and bring them to life with our 3D printer!
[Event Overview]
Dates: Saturday, March 4th & 11th
Time: 13:00-15:30
Campus: GGIS Annex
Address: Miwa Building 3F 1 Chome-8-20, Hiratsuka, Shinagawa City, Tokyo 142-0051
Age: Elementary Students
Participation Fee: *tax included:

GGIS Student: ¥6,000
Guest: ¥8,000

Sign-up Deadline: March 1st, 2023
[PayMarch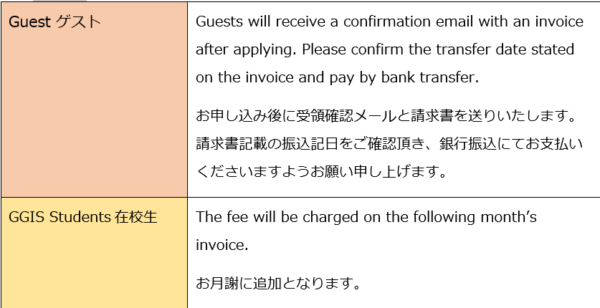 [Important Notes]
Please read and agree to the following document: COVID-19: School Life
Once you have paid the participation fee, it cannot be refunded.
GG Tech event and classroom photos will be posted on related websites such as the school blogs and Facebook.
Be aware that the organizers are not responsible for any loss of valuables, accidents, or incidents between participants.
Please be aware we may make necessary adjustments to your child's project to make it 3D printable.
For Guests: If we cannot finish 3D printing during the lesson, we may ask for a shipping address.
We will close admission when we reach capacity.
In case of sibling participation, please register and apply for each child separately.
If you have any questions, feel free to contact us at info@ggtech.jp.