💖💌 Valentine's Day Event 2022 💌💖
GGIS is hosting a Valentine's Event on Saturday, February 12th!
Hello everyone!  We are pleased to announce that GGIS will be holding a family Valentine's Day event for 2022! We would love it if you could join us.
We'll be playing some games and making Valentine's Day craft for you to take home and give to someone dear to your heart. We'll also be playing a bingo game for prizes.
See you there!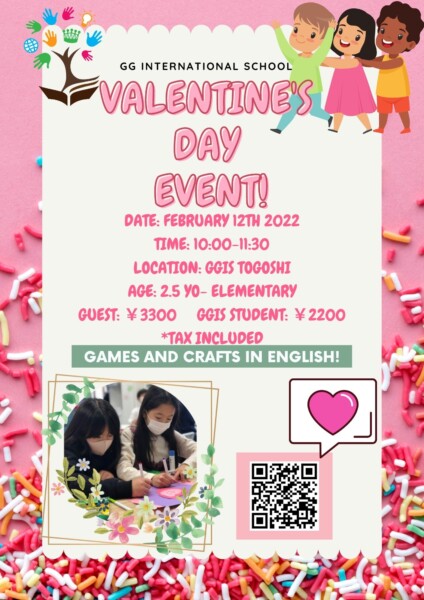 [Event Overview]

Date: February 12th, Saturday
Time: 10:00-11:30
Campus: GGIS Togoshi 
Address: Chokodo Building 2F, 1-6-25 Hiratsuka, Shinagawa-ku, Tokyo 142-0051
Age: 2.5 y/o to elementary grade 6
Fee *tax Included:

GGIS student: 2,200 yen
Guest: 3,300 yen

Sign-Up Deadline: February 6th, 2021
Payment:

GGIS Student: Fee will be charged on the following month's invoice.
Guest: Please transfer the participation fee to the following bank account in advance and then submit the application form.

Bank: GMO Aozora Net Bank (0310)
Branch: HOUJIN Account#:101

– 1275066


*Please make bank transfers under the student's Name
[Important Notes]
Please read the following document COVID-19: School Life and agree.
Only elementary students are allowed to participate without a parent accompanying them.
Parents are free of charge.
Once you have paid your participation fee, it cannot be refunded.
GGIS event and classroom photos will be posted on related websites such as school blogs and Facebook.
GGIS pays close attention to the types of treats distributed during the event. However, some treats may contain allergens or could otherwise be deemed unsafe (size, etc.). Therefore, please consider your child's age and/or food allergies when taking part in the event.
Please be aware that the organizers are not responsible for any loss of valuables, accidents, troubles, or troubles between participants.
In case of sibling participation, please register and apply for each child separately.
If you have any questions, please feel free to contact us at admin_as@gng.co.jp.